THE RSC 40th ANNVERISARY CEREMONY at DISCOVERY PARK on 3rd NOV 2013
The Road Safety Council (RSC) was established in 1973, has served Hong Kong for 40 years. The Council is a government advisory body consisting of government officials, which include Hong Kong Police Force, Transport Department, Transport and Housing Bureau, Highways Department, Education Bureau and Home Affairs Department, and non-­‐government organizations which include Hong Kong Federation of Insurers, Hong Kong Automobile Association, The Chartered Institute of Logistics and Transport, Institute of Advanced Motorists Hong Kong, The Hong Kong Medical Association & Hong Kong Road Safety Association of various professions. The RSC and these bodies are working hard together to drive Hong Kong towards the goal of "Zero Accidents on the Road".

From July to November in 2013, the RSC has started the campaign for celebrating the 40th anniversary with the promotion of 4 road safety themes, including "Anti-­‐Drink Driving", "Anti-­‐Drug Driving", "Cycling Safety" and "Elderly Pedestrians Safety".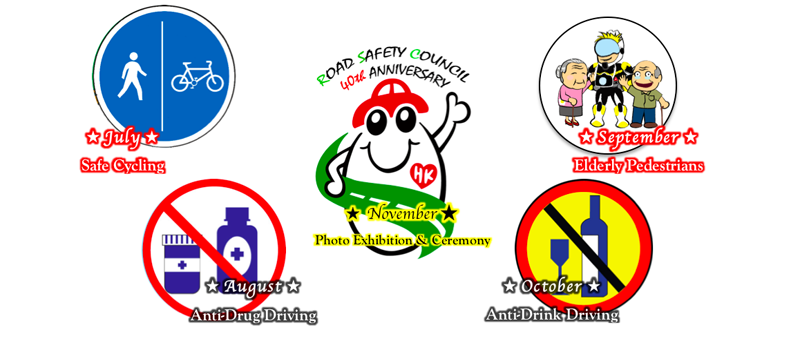 The aim of the 40th Anniversary Ceremony and Exhibition, which will be held on 2-­‐3 November at the Tsuen Wan Discovery Park, is to recall and showcase the contribution made by the RSC in these 40 years. A number of historical pictures will be shown to demonstrate the road traffic development throughout the years. For the celebration of the 40th anniversary, famous artists Kandy (糖妹) and Nancy Sit (薛家燕) are appointed as the ambassadors.

Besides the ceremony, the RSC engages in various activities to enhance road safety in Hong Kong through different channels, such as radio channels, advertisements, booklets, etc. In October, Metro Radio will broadcast 10 sessions of radio drama recorded by Kandy and Nancy Sit to promote the road safety. These two ambassadors will sing the traditional road safety song "做人係要忍" in a new style. Moreover, the RSC will produce a microfilm in 6-­‐8 minutes conveying road safety message.

The RSC is committed to driving Hong Kong towards the goal of "Zero Accidents on the Road". This vision can only be realized with your full support! The RSC cordially invites you to enjoy the coming activities and further disseminate road safety messages to your family and friends.

Let's celebrate the RSC 40th Anniversary!