The Road Safety Council 41st Anniversary Ceremony cum Elderly Road Safety Campaign 2014

The Road Safety Council 41st Anniversary Ceremony cum Elderly Road Safety Campaign 2014 was held by the Road Safety Council (RSC) on 22 November 2014 at Discovery Park Sky Dome Atrium in Tsuen Wan.

The ceremony was officiated by Mr WONG Chi-hung, Tony, Deputy Commissioner of Police (Operations) and the Chairman of RSC, Mr TO Kam-biu, David, Deputy Commissioner for Transport and the Chairman of Road Safety Research Committee, and Dr CHENG Kam-chung, Eric, the Chairman of Road Safety Campaign Committee.

Mr WONG Chi-hung, Tony reported that as a result of the combined effort of the Road Safety Council, stakeholders concerned and the public, Hong Kong's road network was one of the safest in the world. This can best be illustrated by the fact that despite the increase in the number of vehicles on our roads, traffic accident figures continue to decrease.

Between January and October 2014, fatal traffic accident decreased by 20% when compared to the same period of 2013. This is despite the fact 2013 recorded one of the lowest number of traffic fatalities in the last 50 years. Should we maintain this good record, the number of fatalities in traffic accidents this year will be the lowest since 1953.

Nevertheless, elderly pedestrian safety also remain a concern with 38 persons aged 60 or above killed in the first 10 months of this years accounting for a staggering 46% of all traffic accident fatalities. To address this, a number of activities have been organized by the Road Safety Council this year to educate and promote the concept of elderly pedestrian road safety. The 'Elderly Road Safety Quiz Competition 2014' involving 39 centres for the elderly was organized with RTHK between July and November. The Senior Police Call was invited to challenge the winning team in the ceremony.

Police statistics show that the main cause of traffic accidents was "Drivers and Pedestrians using the road inattentively". Therefore, the Road Safety Council will launch a new TV and radio API, supported by posters and leaflets to enhance the safety awareness of drivers and pedestrians, in particular highlighting the distraction posed by mobile telephones and similar devices.

Kellyjackie and Sunny Lee were the Master of Ceremony and Dominic Lam, Mimi Chu, Joe Tay, Rosanne Lui, Adason Lo and Annie Liu were the preformers to sing and interact with the audience to spread the road safety messages to the public.

In addition, the premiere of the mini movie "全因為愛", directed by Mr Wong Ping Hung from RTHK, produced by the Senior Citizen Home Safety Association and performed by Music group "Face to Face", Elliot Ngok and Tam Sin Hung was broadcasted on the ceremony to promote road safety message to the elderly.

The atmosphere of the ceremony was lively and attracted various media coverage.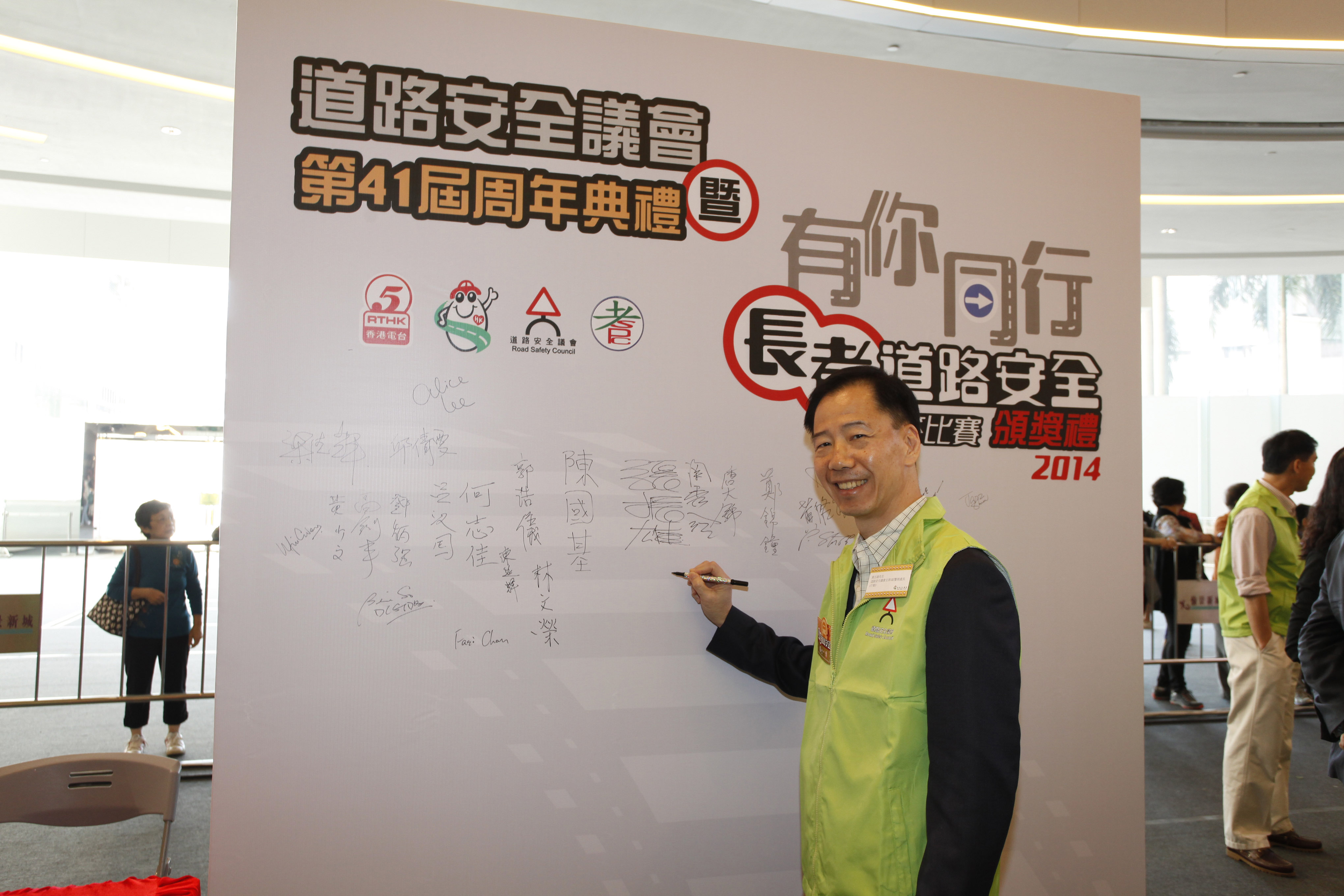 Photo Album